Hello Rebels! The time has finally come for me to say farewell to this Legendary army! It truly has been a wild ride. Thank you all for everything that you've done for me for the past three and a half years!

Back in early 2019, I decided to check out some games that I used to play as a kid and one of them was Club Penguin. To my surprise, Club Penguin had shut down in 2017. However, there were a handful of private servers aka CPPSes which kept the nostalgia alive one of which was CP Rewritten. I chose to join CPR since their style was the way I'd remembered the game to be. I honestly didn't know what to expect after making the account. Back when I'd last played the game it was 2007. To my surprise, CPR had a sizeable player base from 2007-09 and for some reason simply chatting with such folks in the town or the mine was quite fun.
It was on one such day that I ran into a group of penguins dressed in the Poncho and Sombrero. Never before on CP had I seen such a highly organized group sending emotes and word bubbles in such a coordinated fashion. While I couldn't join them that day, I remembered the name of the penguin leading the "Nacho" group – Sasuke aka Silverburg! A few days later I ran into Sasuke at the lighthouse and I approached him and said "Hey man, nacho gang was awesome!" and a few moments later I found myself in the Rebel Penguin Federation discord.
Thanks to RPF's friendly atmosphere, their mascot trackers and CPR guides, I became quite invested in it and before long, I was regularly attending events and was eagerly waiting for Sundays (yes, back in those days promos were on sundays) when I'd move up by one rank. Pretty soon, by June, I'd ranked up to Brig Gen and became a staff member in RPF. At the same time, I'd landed my dream job and started working IRL too. I had to manage my time carefully so that I could still be a member of RPF while having a full time job as an engineer. Doing this for the past three years has been anything but easy lmao!

During my time as mod, CPR was actually quite easy to recruit off of. So mods would have some friendly competition and see who'd end up with the most recruits. Moon, Lance, Ulti, Cheese and myself would dress up in simple outfits that'd catch people's attentions (like the blacksmith apron, pizza apron etc) and on good days we'd end up with well over 5-6 recruits per person in a short span of 1 hour. In mid 2019, RPF would fully reintegrate with the CPA community by joining the CPA league. However as RPF was significantly larger than its competition, the RPF Strike Force (RPFSF) was created and I was one among many who took part in those events. RPFSF spawned a bunch of memes, some of which have survived to this day (sacrifice :P). As part of RPFSF, I would also take part in my first war against EGCP and first inter army tournament i.e. Summer Circuit both of which would be won decisively by RPF.
Pretty soon I was promoted to HCOM and the challenges of planning events and finding new ways to recruit and grow RPF. during my time as Second in Command, RPF would take part in World War Rewritten, Legends Cup X, Fright or Fight and Christmas Chaos X. In 2020, with the pandemic in full swing and lock downs everywhere, there was a massive surge in CPR's popularity. It was truly amazing to see RPF maxing 100+ for ausia, 130+ of EU/US on a daily basis with little to no hype and absolutely dominating its competition.
During this time I also worked on designing Rebel Banker (now re-branded to Rebel Bot) to serve as RPF's economy bot. It was originally conceived to be a simple economy bot with no additional functions, however as time went on the scope of the once small "side project" had changed significantly and by mid September 2020, I was busy rewriting the code to make RB a truly general purpose bot. Today, RB is a truly feature rich general purpose bot that has over 20000 lines of source code (excluding external dependencies) spread across almost 120 files and is by far, the largest project I've singlehandedly maintained for such a long period of time. It's also without a doubt the best side project that I've worked on as a part of RPF as it allowed me to learn quite a lot of stuff that I'd otherwise have never even come across.
I was promoted to Rebel Commander alongside my co-leader elex in February of 2021. Under our leadership, RPF would take part in the now infamous March Madness 2021, which was hosted by the admins of CPA HQ. The events of MM21 led to a split in the community and the foundation of the CPA Network. After MM21, we were more determined than ever to lead RPF to tournament victory and what better tourney to win than the Legends Cup XI.

RPF entered LCXI as the top seed and from the get go asserted its dominance in the tournament. We defeated our allies the Fire Warriors in the quarter finals, the Templars (3-0) in the semis. In the finals we faced the Help Force whom we defeated to win the Legends Cup XI. This battle was one of the most intense battles that I've ever led and is by far my favorite. I led for the last 15 mins of the battle and at certain points I felt as if the battle was touch and go. However, when we switched to room 3 (berg), that was the moment I knew that we'd won. RPF absolutely outclassed and out maxed Help Force in the final room by a huge margin, netting us the win. Over the course of the next six months, RPF would continue to assert its dominance by defending its Christmas Chaos title and by winning Ausia Arena:winter edition.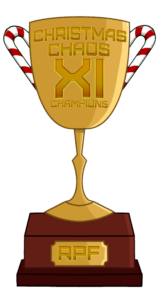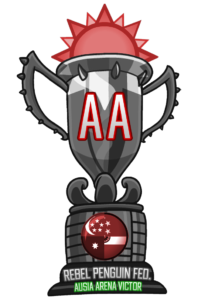 By March 2022, it was clear to me that my IRL workload had increased to such a point that I could no longer spend the required time for RPF. I'd originally planned on retiring in April at the end of March Madness, however Disney got CPR, our primary cpps and recruiting platform, to shut down. In an instant, we were left without a CPPS to play on and all our future plans were in disarray. So, I decided to stay and help out RPF until it had found itself a stable CPPS and a source of recruits. Today, I am confident that RPF is in a good spot in terms of its leadership, high command and staff and I have full faith in the current staff that they'll take RPF to even greater heights. This short war against the Templars have proven that RPF is still far from over and we truly are the greatest army of all time. RPF's greatest strength is its community – people like you, the reader, who stand by your fellow rebels when called upon.
---
No retirement post is complete without a vote of thanks! My time in RPF wouldn't have been the same without the following people.
Elexonck
My fellow RC, close friend and fellow computer nerd :P. I've mentioned this before and I'll mention it yet again – I couldn't have asked for a better person to co-lead RPF with. You've made my time as a leader a breeze. It's truly been an honor and privilege to lead RPF to multiple tournament wins alongside you.
Moon

and

Lance

My former mentees and oldest buddies in RPF. My time as a mod would've been a lot more boring had it not been for you two. Recruiting on CPR with y'all on a daily basis and discovering Rebel Cart Surfer as a recruiting strat are some of my best memories of 2019. I've also enjoyed playing on our SMP, making dope farms and watching you two kill each other (LOL) with bows.
My mentees –
Bratty

,

Cat

,

Yoda

,

Anya

,

Guinz

,

Mac

and

Ree

It's been a great experience mentoring you guys. Watching you settle into your positions as good officers and HCOM was quite rewarding. Thank you all for being great people to mentor and I wish you all the very best for your future.

Lastly, the following people (in no particular order) deserve a shout out – Aaronstone, Alienn, ArandomOwl, Avril, Ben, BenTheGun, BrotherQuack, Cheese, Commando, Crazzy, Cracked, Cosmo, Emcee, EmeraldGreen, Jaeun, Iceyfeet1234, Jimmy, Link3000 (smile farm :P), Madhav, Perry, Pookie, Popsiclebeak, Princhi, Redweeb, Rocket, Silverburg, Starship, Ulti, Yvng Baller, Mare, Tulia, Yas, Yo gal, z3ming, all my recruits, allied leaders and all those who've served alongside me as HCOM and Officers, and lastly to the troops of RPF.
---
Well, that brings us to the end of my retirement post. To the people who might have grudges against me for things that I've said/done, please know that I've only treated CPA as a game, nothing more nothing less. I do not harbor any ill feelings towards you and I hope you feel the same way. To all my wonderful troops in RPF, keep fighting the good fight and remember, when darkness falls, we rise! For all the things that we achieved together, I wish to thank each and everyone of you. Keep supporting the leadership and HCOM just as you supported me, and together RPF will reach even greater heights!
I'll be around in main chat, so if you ever need me, don't hesitate to reach out!
Thanks for 3 years worth of great memories!
Signing off, one last time,
~F6sixer
Rebel Commander