Our uniform is what we wear to differentiate ourselves when we hold events.  Feel free to change certain items to put your own touch on it as long as it is still recognizable as an RPF uniform!
This is the current uniform:
---
Club Penguin Armies Battleground

Type !army RPF into the chatbar to receive your uniform.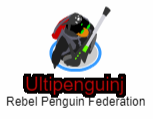 ---
If you would like to join the Rebel Penguin Federation – participate in our events, rank up, have access to our mascot tracker and tutorial posts – click here!
Fight the Good Fight!