Our uniform is what we wear to differentiate ourselves when we hold events on CPR.  Feel free to change certain items to put your own touch on it, as long as it is still recognizable as an RPF uniform!
This is the current uniform:
Club Penguin Rewritten

Penguin Color: Black – You can find this on the 1st page of the Gift Shop Catalog (20 coins).
Head Item: Red Viking Helmet – You can find it on the 11th page of the Gift Shop Catalog. Click on the 'N' in "penguin" on the purple penguin's jacket for the Viking Helmet (750 coins).
Face Item: Night Vision Goggles – You can find this item in the FISH Catalog at the PSA Headquarters, click on the red penguin's shades to find the Night Vision goggles (1000 coins).
If you don't know how to get to the PSA HQ, click here!
Neck Item: Hiking Backpack – You can find this item on the 14th page of the Sports catalog (located at the Stadium) (300 coins).
Body Item: Any black body item – (varying coins).
Hand Item: Red Electric Guitar – You can find this item in the Lighthouse Music Catalog (550 coins).
Optional Foot Item: Black Sneakers – Currently unavailable.
Total Coins Required: 2,620
---
Club Penguin Armies

Type !army RPF into the chatbar to receive your uniform.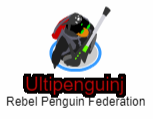 ---
If you would like to join the Rebel Penguin Federation – participate in our events, rank up, have access to our mascot tracker and tutorial posts – click here!
Fight the Good Fight!