Happy Friday my rebels!  Another week has passed and it has been a busy one.  With the rebels having their first battle for the LCXI things this weekend, everyone is hyped for the tournament.  With so many troops getting excited and prepped for this round it's hard to narrow it down to just one.  But indeed one has stood out and has earned the honour of Troop of the week…..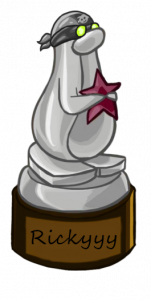 Ricky has been part of RPF since mid-April and they've certainly made their mark.  Currently one of our Master Sergeants, they're definitely someone we've had the pleasure of often seeing in chat.  Always a friendly face to have around, ready to strike up a nice conversation, on top of also having a very strong event attendance.  With all of this in mind, it's kind of hard to find a more ideal person for this week's Troop of the Week title.
Make sure you congratulate them when you see them in chat!