—◊ TUXEDO TIMES ◊—
Week of August 30th, 2020
Wow! Issue #20 – that's a lot! We've come really far, and after 5 months, we're so happy to continue giving you fun content and cool facts from RPF and beyond! Please enjoy the 20th issue of Tux Times, and have a great rest of your weekend!
---
—◊ Weekly Maxes and Averages ◊—
—◊ Maxes ◊—
AUSIA:

59

(12⇑)




EU:

84

(17⇑)




US:

57

(5⇓)
—◊ Averages ◊—
AUSIA:

51

(7⇑)




EU:

65

(7⇑)




US:

46

(10⇓)




Total:

54

(2⇑)
---
—◊ By the Numbers ◊—
How many promotions got handed out this week?
With a total of  40 promotions, there was:
1 Lieutenant General,
1 Major General,
5 Colonels,
4 Lieutenant Colonels,
2 Captains,
4 Lieutenants,
4 Scout Medics,
3 Specialists,
5 Master Sergeants,
2 Sergeants,
2 Corporals,
4 Lance Corporals,
and 3 Private First Classes!
How many HCOM have retired this year so far?
8 HCOM Members! Ulti, Redweeb, Starship, Emcee, Pookie, Wolves, Plane, and Klein!
How many times have we had an Operation: Ascension?
According to most recent RPF site records, 11 times! Have we ascended yet, Cosmo?
Who talked the most in #main-chat this week?
Our Lieutenant General, Brad, did! With over 8,300 messages – that's a lot!
But who spent the most time in Voice Chat?
Yo gal did – with an impressive 90 hours!
And finally, how many times did we obsess over the new rebelwoah emote?
507 times! Most notably used by our very own android song – brenatto, who used it 242 of the total times!
---
—◊ Challenge of the Week ◊—
It's puzzle time! This week, Avrill has made a Word Search, can you find all the words? Send a screenshot with the words circled or underlined to be eligible for your prize!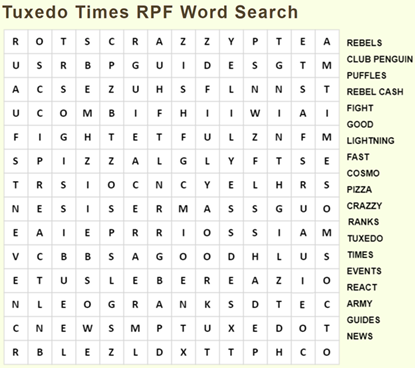 You have one day to respond to the challenge by DMing Rocket#4121 on Discord for a prize of 750 Rebel Cash!
---
—◊ Division Recap ◊—
—◊ Sunday ◊—
»AUSIA«
Max: 59




Avg: 58
For our first event on Sunday, we held our highly anticipated AUSIA practice battle against Help Force. Great job to both sides and congrats to our victors this time, the RPF! 
Click here for the full report!
»US«
Max: 32




Avg: 30
To celebrate our End of Summer awards, we logged on to Tuxedo to have a fun troop-led event. Thanks to everyone who came and congrats to those who won awards! 
Click here for the full report!
---
—◊ Tuesday ◊—
»AUSIA«
Max: 49
Avg: 46
Kicking off Tuesday, we hosted Operation: Guitar Hero! Everyone got to show off their killer guitars while jamming out with fellow Rebels over on Deep Freeze! We rocked our way all over the island, showing off our sick moves. Great work, Rebels!
Click here for the full report!
»US«
Max: 54
Ending the day off, we hosted a mancala tournament in honour of the ever so missed, US Mancala 2020 Summer Olympics™. Many of us competed on both Beanie and Crystal to take part in this ancient art, hoping to take home the title of Mancala Maniac. Mad congratulations to Pr3s1dentSn0w, Jimmy38983, and Natvadar for placing!
Click here for the full report!
---
—◊ Wednesday ◊—
»EU«
Max: 55
Avg: 53
For our mid-week EU event, we had Operation: Squad Sharpening. We logging onto CPArmies- Tuxedo where each branch practiced tactics and formations for the upcoming tri-battle against our allies, the Water Vikings. Fantastic work rebels!
Click here for the full report!
---
—◊ Thursday ◊—
»EU«
Max: 60
Avg: 58
On Thursday, we logged onto Crystal for Operation: Sneak Attack! We trained in the RPF uniform, then changed into the special animation items, showing off our moves to the island. Great job, rebels!
Click here for the full report!
---
—◊ Friday ◊—
»AUSIA«
Max: 51
Avg: 50
For our AUSIA event, we logged on for Operation: Team Effort, where our troops got the chance to lead their own tactics! Brilliant job rebels!
Click here for the full report!
»US«
Max: 57
Avg: 54
We later logged on for our US event. Operation: Close Encounters! We trained in small rooms in preparation for our battle tomorrow!
Click here for the full report!
---
—◊ Saturday ◊—
»AUSIA«
Due to the EU/US Practice Branch Battle against the Elites, the AUSIA event was cancelled!
»EU/US«
Max: 84



Avg: 84
For this end of the week EU/US, we logged on to Parka – CPArmies for our much-anticipated tri-battle with the Elites! All sides did great, but congrats to the Navy for winning!
Click here for the full report!
---
-Tuxedo Times Team:
Tadpoles, Cat, Brattybottom, Milly, Shark, Sarah, Avrill, Mac, and Rocket