The following post contains information about a declassified operation undertaken by RPF HCOM.
It is in no way intended as an expose or act of aggression towards any parties represented, simply an explanation and declassification of a now-ended operation.
In the days of original Club Penguin armies, mods and members of every army would start their own armies on a whim.  They all wanted to see if they had what it took to take an army to the top.  These armies usually lasted a couple of months, but one in particular has been revived twice now.
Arctic Ops, created by RPF moderator Starboi414 in 2014, was an army of this kind.  The army was fairly decent for an army created and led by a mod, maxing double digits a few times, but it eventually died like all of the others.  I'd been a part of this army, even making it all the way to Second in Command at some point.  It had a short-lived second generation months later in 2015 under Tennis and Pete29659, but again died out.
AO would go on to remain dead for years.  That is, until October 23rd, 2019, when it was revived by an outside entity by the name of resetbtn, claiming to have been in Arctic Ops when it was still alive.  This wasn't entirely a lie, seeing as resetbtn was my alt account.
The circumstances leading to the revival of Arctic Ops were rumors among the Club Penguin Armies community that the New Viking Alliance was dying.  The fallen alliance would be replaced by the new Crimson Night Alliance, spearheaded by the People's Imperial Confederation.  Seeing a chance to get into the leaders' channel of the CNA, RPF HCOM conspired to form a new army, all on alts, and enter the new alliance.  After a couple weeks, the invitation was extended.  Reset and Ogibaan (AO 2ic, alt of Pookie437) had a conversation with NotManuGinobili, the leader of PIC at the time.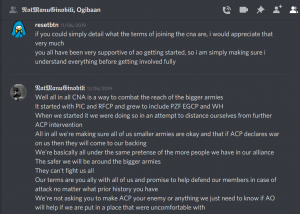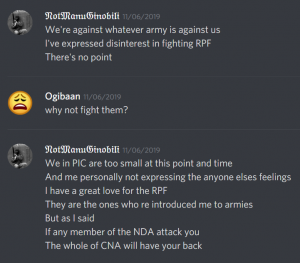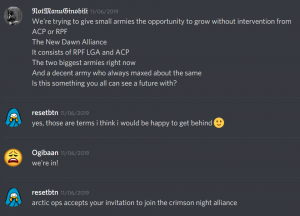 With the invitation secured, Reset was given access to the CNA server, and particularly the leaders' channels, where we found insight into a planned group war on our allies, the Army of Club Penguin.  This information was promptly leaked, both from the leaders chats and the secret chat known as #witchblades, for the most trusted of the CNA officials, and ACP got the jump on declaring war first.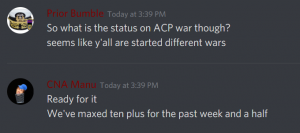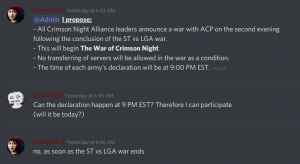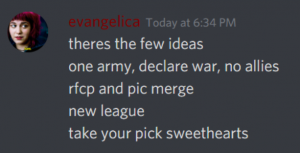 We also learned more information, such as faked wars and people logging on alternate accounts to help in wars.
As of today, Arctic Ops has been shut down for the third time, putting an end to their third generation with their goal complete and their servers transferred to another up and coming army, the Poké Warriors Army.  I'd consider it a success, with the army having two servers on the CPA map, reached 6th on the top ten, created a new flag, and updated their uniform. If AO ever returns, I wish it all the best.
freezing the enemy !
resetbtn, Arctic Ops Commander in Chief
Fight the Good Fight!
Ultipenguinj, Rebel Commander