Hey there, Rebels!
Here's a guide to earning all the stamps in Club Penguin Rewritten's Catchin' Waves minigame! To start playing, go to the Cove and click on the hut to the right.
---
There are a whopping 22 stamps to earn in Catchin' Waves:
7 Easy stamps, 7 Medium stamps, 6 Hard stamps, and 2 Extreme stamps!
First Trick: Master your first trick on the board
Puffle Surfin': Take your red puffle for a surf lesson
Easy Flip: Perform 1 flip
Easy Tube: Hit 100 point combo while shooting the tube
Easy Grind: Hit 100 point combo while grinding the wave
Graduate: Finish the surf lesson
Easy Spin: Perform a 3 spin jump
Trick Star: Master 13 different tricks in a surf
Podium Puffle: Finish in 1st, 2nd, or 3rd place with your puffle
Flip Star: Jump and flip 3 times
Easy Jump: Jump the height of 8 penguins
Super Tube: Hit 1000 point combo while shooting the tube
Super Spin: Perform a 7 spin jump
Super Grind: Hit 700 point combo while grinding the wave
Max Grind: Hit 1200 point combo while grinding the wave
First Place: Win first place in a competition
Max Flips: Flip 10 times
High Jump: Jump the height of 20 penguins
Max Tube: Hit 5000 point combo while shooting the tube
Max Spin: Do a 10 spin jump
Shark!: Spot the shark
Survivor: Complete Survival Mode
---
Here's what your stampbook will look like before we begin:
---
Important note: buy the Silver Surfboard for 800 coins! Check out our Generic Secrets Guide for its location. This surfboard allows you to move faster, so use it for all of these stamps (except for ones where you'll need your red puffle).
---
Firstly, complete the tutorial. This effectively teaches you the basics of Catchin' Waves. Afterwards, you'll have earned Graduate, as proof that you're a surfing pro!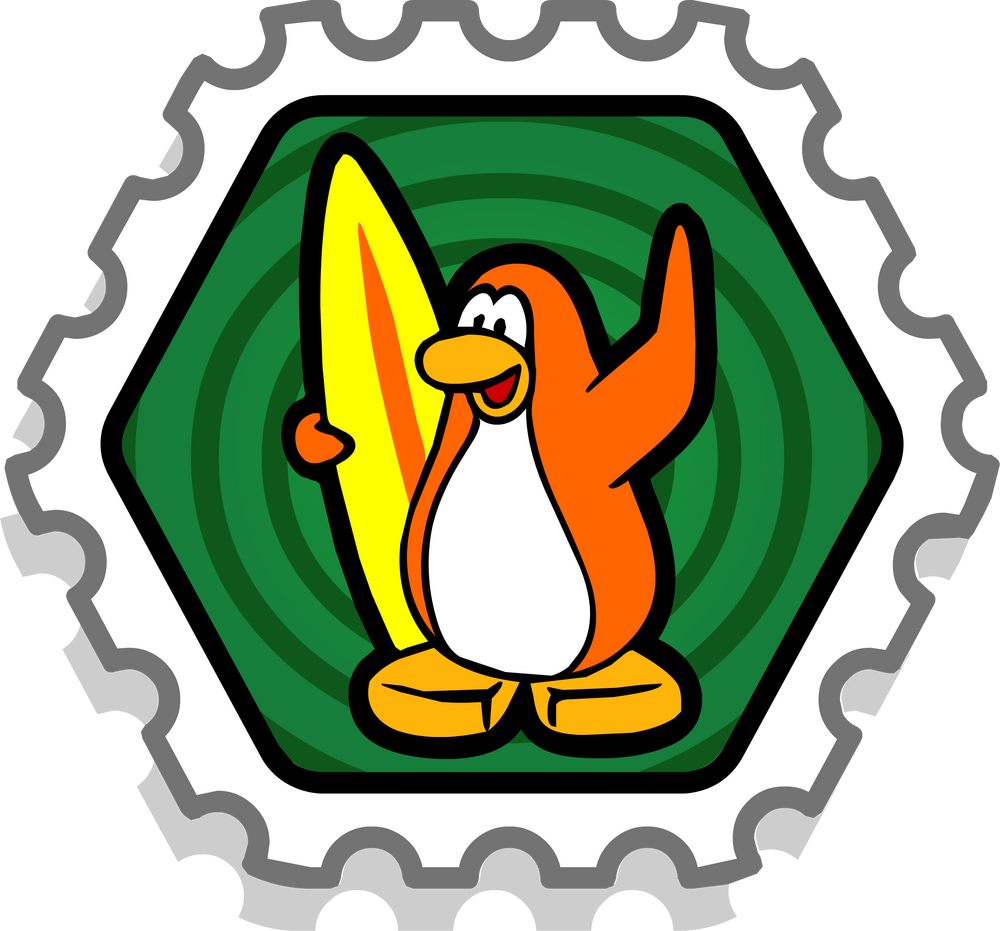 In addition, you may have earned other stamps, but we'll move on.
---
Next, we'll tackle the two trick stamps: First Trick and Trick Star! You probably have First Trick already, but as for Trick Star, you'll need to do 13 different tricks. That includes:
Waving: W / ↑
Handstand: A / ←
Lying down: S / ↓
Dance: D / →
Icebreaker: A + W / ← + ↑
Coastal Kick: A + D / ← + →
Blender: S + D / ↓ + →
Lazy Wave: S + W / ↓ + ↑
Backstand: S + A / ↓ + ←
Surf Fever: D + W / → + ↑
Shooting the tube: leaning back and letting the wave get close
Frontflip: moving the mouse clockwise while in the air
Backflip: moving the mouse counterclockwise while in the air
Spinning: doing a trick while in the air
Grind: holding down the left mouse button when landing on the wave

---
This next group of stamps is a large one: Easy Flip, Easy Grind, Flip Star, Super Grind, Easy Jump, Max Flips, Max Grind, and High Jump! They don't have to be earned simultaneously, but I recommend doing them together: the higher you jump, the more flips you can do, and the more flips you do, the greater your grind combo will be.
To get these stamps, lean forward and surf down to gain speed before sharply moving your cursor up to jump. Then, quickly move your cursor clockwise or counterclockwise to flip as many times as you can. Right before landing, hold down the left mouse button to grind, and do a trick while grinding to gain even more points.
Ideally, you'll have all eight of these stamps in one or two fell swoops! If not, keep trying.
---
As for the spin stamps – Easy Spin, Super Spin, and Max Spin – spam your WASD/arrow keys while in the air. Again, keep in mind you can do more spins the higher you jump, so the Jump stamps can also be earned here. Otherwise, there's no technique to it, so you should earn these easily.
---
Now, we'll be going for the tube stamps! That's Easy Tube, Super Tube, and Max Tube. These might be the most difficult out of the trick-based stamps, but here are a few tips.
Do a trick, like the Blender, to gain points quickly. Hold down the second button in a trick (with the Blender example, the D/right key) to continue doing it without restarting, and it'll keep boosting your combo rate.
Keep moving your cursor up and down! Move only slightly at first so you don't leave the tube, but move your mouse more and more dramatically as you continue since the wave will begin to catch up.
At 4000 points, stop doing your trick and focus on your cursor movement. By this point, the wave will be very close, so concentrate on exiting safely instead of getting those last points. Don't get greedy!
---
Up next are Puffle Surfin', Podium Puffle, and First Place. To get Puffle Surfin', just bring your red puffle into any game of Catchin' Waves. As for Podium Puffle and First Place, though, you'll need to do well in the three rounds of Competition mode. Some hints:
Efficiency is essential! Try to satisfy multiple judges simultaneously (i.e., do specific tricks while grinding the wave or shooting the tube).
Grinding the wave, shooting the tube, flips, and spins only count if you perform them successfully. If you lose your balance, you get nothing. You get more points for longer combos or more tricks, but be careful!
Be careful with the balance judge. Their bar starts out maxed, but once you lose your balance, you can't bring the gauge back up.
If you have very low scores for all the judges, lose your balance. You'll be set back slightly, giving you more time to gain points.
---
Finally, we have our two Extreme stamps: Shark! and Survivor. These are earned in the difficult Survival mode. Patience and focus are key! Here's my advice.
You gain 200 points every few seconds, and Survival mode ends when you reach 20000 points (10 minutes). However, while tricks boost your score, they don't make the game go faster, so don't bother.
Go fast and stay ahead of the wave, even if you crash into icebergs. You'll wobble if you collide with them, but you won't wipe out instantly. Hold down the left mouse button to quickly regain your balance!
The icebergs pause periodically, leaving you with the wave. Watch out, though – the wave starts moving a lot faster! Maintain that up/down motion and stay calm.
When you reach the end, the shark will appear, leaping from the water to knock you down! It's incredibly difficult to dodge, so save a board in case you mess up.
---
Here's what your fully completed stampbook looks like!
---
And there you have it – all 22 stamps in Catchin' Waves.
Have fun surfing, rebels!
Androidsong, General
a rebel just for coastal kicks
---