It's been one hell of a ride guys but as you know all good things must come to an end.
I joined the Rebel Penguin Federation on the 5th of October 2017. Back then I honestly didn't know what to expect from the Rebel Penguin Federation but I definitely did not expect to spend the next 2 years of my life in the RPF. I only came across the RPF after searching for a mascot tracker for club penguin rewritten. I had recently discovered that after Club Penguin's shutdown, a CPPS by the name of Club Penguin Rewritten had been created. I came across the old site, signed up, joined the discord and just like that, I was a private in the Rebel Penguin Federation.

Initially, I wasn't very active, which was largely due to the fact that I went on holiday shortly after joining. After returning I started actually attending a couple of events but not before repeatedly bugging the staff about how the hell these "promotions" and "events" work. Initially I was completely clueless but soon got the hang of it and began working my way up the ranks, getting my first promotion on the 29th of October 2017. I don't remember much from my early days but I distinctly recall a huge event we had on the iceberg where we maxed over 100 back in December of 2017, something I was completely amazed by and recall to this day. After that things just kept going on and on, I worked my way through the ranks and went on one hell of a journey.
My journey throughout RPF has had its ups and downs but I will always remember each and every part of it. Although my memory can be terrible at times…
I remember the RPF winter Olympics on oasis back in 2017, as well as staying up until 1 am to attend just to fail miserably at a US find four event. My team, candy canes ended up doing pretty badly but it was fun nonetheless.
I remember the coup of Elmikey that occurred way back in December of 2017 and the post that was made shortly after revealing everything he had done.
I remember the day that CPR shutdown, march 4th, forcing us to find an alternative CPPS which ended up being Club Penguin Universe. I remember the event we had on the day that CPR shutdown and was mildly annoyed as I had gotten my account banned the same day over an unfortunate typo. I remember all the mascots flooding the servers just prior to the last hour, allowing everyone to complete their mascot stamp pages.
I remember getting TOTW on the 9th of March 2018. It was hilarious to see all the troops rushing to reply to people in help desk in an attempt to get troop of the week back then (something I did as well). I whipped up the traditional speech:

however, after reading my troop of the week post I laughed, finally realizing why Junie had asked me shortly prior to that what my gender was. (I had told him I was a girl as a joke and well it seems he took it a bit too literally, Classic Junie nub move).


I continued my journey throughout RPF, steadily working my way up the ranks.
I remember the weeks before getting mod, me and my good friend Cosmo had both expected to get a promotion and become moderators and we were pretty annoyed that it didn't happen. At the time we didn't properly realize how big the jump from colonel to brigadier general was but I finally managed to get my promotion to brigadier general on the 8th of April 2018.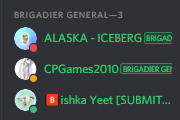 I remember struggling with getting promoted during my time as a mod and seeing all my friends zoom past me, getting double promos and HCOM super fast. I reached general on the 4th of August 2018 (Mod on 8/4, General on 4/8 :D) and was pretty proud however I ended up getting stuck there for a long time. The promotion to becoming HCOM was a big leap (even bigger back than, promotions to HCOM came out of the blue and were very rare) so I stayed and continued doing my best to get promoted.
I remember when, due to an unfortunate chain of events, (Feel free to read up on it here), RPF ended up being banned from it's main CPPS, club penguin online and was forced to enact operation exodus prematurely, a plan to move on to other games. (A project that had been attempted multiple times prior to this) Those were the days of .io Games, town of Salem, twitch raids and Roblox. (I had sworn I would quit RPF if I ever had to play Roblox but guess I survived playing Roblox) The RPF had been renamed to Rebel Federation. (RF)
I remember the move back to Club Penguin Rewritten on the 6th of October 2018, initiated by Plane, the rebel commander at the time. At our first event back on CPR I realized truly how much I had missed the usual events and hyping up in chat.
I remember the discord getting defaced on the 13th of October, with massive amounts of people getting kicked from the RF discord and losing all hope that RF would ever become whole again. I remember being fired from the RF the next day due to some unfortunate circumstances that occurred during the deface.
I remember rejoining shortly after at a lower rank, once again with a motivation that I myself was surprised by. I worked my way back up again eventually reaching general once again.
I remember the day Twitchy rejoined to expand and refine the ideas of operation exodus/the rebel federation. It was still a big work in progress however the RF was able to successfully complete the goal of the RF: establishing a multi-platform gaming community.
I remember finally reaching the goal I had been striving towards ever since I joined. I became a head general on the 3rd of February 2019. I remember the joy I felt at having finally accomplished something I worked so hard for. I remember leading my first event, a moment that I will never forget.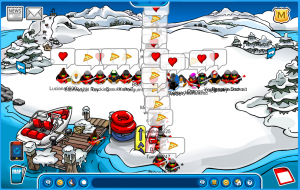 I remember the rise of club penguin armies that happened recently and the formation of strike force, something I was super happy to see as I had never properly been a part of any larger battles between multiple armies. (The last ones having taken place on CPO back in the summer of 2018)
I remember and will never forget the amazing times I've had in RPF. The awesome and fun times I had with my friends. It's been an unforgettable experience that I am insanely happy to have been a part of. To think that I would have never met any of the amazing people of RPF if I had not searched for a mascot tracker on that one fateful day is pretty mind-blowing. RPF is the most amazing community I have ever seen and been a part of. I've made so many great friends and I've had such a great time while in the RPF and I just want to thank everyone who made that possible.
I just wanted to thank all the different rebel commanders who have made this awesome journey possible. Thank you so much Chip, Pop, Twitchy,  Biffer, Percy, Left, Tom, Plane, Night, Liz, Silv, Cosmo, and Ulti.
There are honestly so so so so so so so so so so so many people that I want to thank so I apologize if I forgot anyone or misplaced anyone or missed you or anything like that but…
Thank you so much to Plane, Weebwad, Alexan, Flv, Klein, Cassie, Pookie, Wolves, Night, Lucy, Cosmo, and Emcee. Thanks to RPF you guys have become great friends that I will cherish forever, ones that I know I can always count on, without you my experience would have never been the same and I will be eternally grateful for everything you've done for me.
A huge thank you also goes to everyone who has accompanied me along this amazing journey you have truly made this an unforgettable time and I can never thank you enough for that.
Thank you
Chip,  Silv, Hexxer, Ghosts, Tazy, Perry, Biffer, Percy, Ragnar, Cmm, Argentum, Peaches, Cheese, Peaky, Guido, Mariss, Robot, Puffl, Dani, Reyder, Rose, RPF cat, Roog, Moondog, Robot, Yugi, Chaos, Yuli, Wolfy, Zott, Blood Panther, Tessa, RPG, Redweeb, Aisha, Spider, Limbo,  Wavy, Keem, Ulti, Starship,  Junie, Brownboy, Quack,  Jimmy, Moon, Alex, Yammie, Icy, Rane, Sugar, Crazzy, Catballou, Eva, Lance, Jt, Mariana, Penho, Amadeus, Minipup, Rocket, Redd, Worky, Commando, Elexon, Brenatto, Fuli, Omega, Pinkrat, Vishal, Anme, Racer, Quisqueya, Mew, Track, DjCrystal, Arnor, Max, Coolguy, Daft, ThaOneNub, Therai, Ariel, Bschar, Mindy, Dino, Jack, Cpr, Robert, Gordon, Chach, Sirplus, Lil cheo, WXBP, Wadu, CPG, Niall, Awesomebob, Taetaer, Orange, Van Vinc, Rocker, Benn, Leo, Marija, DD, Curious and anybody else whos name I may have missed.
The RPF is one of the most amazing things that has ever happened to me and I never expected that it would become such a huge part of my life. Today is the day I finally retire from the Rebel Penguin Federation. It's been an honour to work with all of you and I wish you all the best. Don't forget to always Fight the good fight.
I will forever remember this part of my life,
Thank you, RPF.
~Mishka RPF Head General~
yeet