Hello Rebels!
Allow me to give you a brief update on what the Rebel Penguin Federation special division known as the Strike Force has been doing over the past week in our second Strike Force Briefing.
As you may know, the Rebel Penguin Federation Strike Force (RPFSF) is the RPF special forces division available to those of the rank Specialist and above.  Some information is classified for now, though more will be divulged over time.  Information now available to the general public is as follows:
This past week, the Strike Force had its first round of battles in the Club Penguin Armies' inaugural tournament: the Summer Circuit.  This consisted of three battles spread across Monday, Wednesday, and Friday.
The first, a battle against the Lime Green Army, resulted in an RPF victory!
The second battle was against the Cosmic Army and also resulted in an RPF victory!
For our final battle in Round One of the CPA Summer Circuit, we faced off against the Wild Ninjas.  Just like the others, this battle ended with rebel victory!
So, to end the first round of the CPA Summer Circuit, RPF leads its group with an undefeated nine points!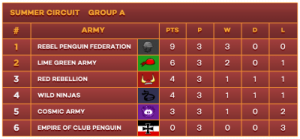 That's all for this Strike Force Briefing.  Stay tuned to the site for further information regarding the RPF Strike Force's activity.  If you are of rank Specialist or above and wish to enlist in the Strike Force for invasions, defenses, and tournament battles, please message me on Discord.
Strike Force Director Ultipenguinj