On June 21st, 2019, the Rebel Penguin Federation entered a new, unnamed era.  Today, the era evolves and our journey continues.
The Past
The new era began with the "Rebel Federation: Club Penguin Division" returning to its original name of the "Rebel Penguin Federation," as collectively decided by then Rebel Commander Queenieliz and Rebel Federation President Twitchy543.  Along with the return to its original name, the army decided to enter into the Club Penguin Armies (CPA) league.
These initial months in CPA saw us allying with the Mopia and the Lime Green Army, conquering most of Club Penguin Rewritten as our territory, and regaining control of our historic capital server of Tuxedo on CPA's own Club Penguin Armies: The Game.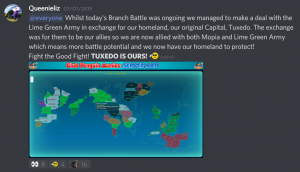 From there, we continued to grow, winning two tournaments (CPA's Summer Circuit and CPANN's November 2 Remember) and expanding our territory across the map as a result of one victorious war against the Elite Guardians of Club Penguin, one short-lived war against the Recon Federation of Club Penguin, several small skirmishes with the Pretzels of Club Penguin, and trades with our allies the Lime Green Army and the Army of Club Penguin in the New Dawn Alliance.  It also saw our involvement in many wars we were not fighting particularly, including an undercover operation as long dead army Arctic Ops.
Other notable moments from our time in Club Penguin Armies include:
the largest event the league had seen, our Holiday Hundred
the longest run at #1 on the CPA top ten of 18 weeks (7/28/19 to 12/1/19)

RPF

winning several Summer Community awards: Biggest Army, Biggest Rivalry (with

EGCP

), Best Battle (Summer Circuit Finals vs.

EGCP

), and Best Leader (Ultipenguinj)
We leave CPA with the map in this final state: mostly covered in RPF black.  Notable territories include:
Tuxedo –

RPF

long time capital
All CPR territories but Zipline –

RPF

's home CPPS of operations
Fiesta – Capital of long time enemies, the

Elite Guardians

Breeze, Blizzard, Marshmallow – capitals of our allies,

ACP

,

LGA

, and

Mopia

Sled, Ice Cube, Snowball –

Arctic Ops

territory
Hockey, Rainbow, Skates, Merry Christmas, Halloween – servers with fun names
CPA would proceed to shut down on February 9th, 2020 due to a lack of army participation, with all but two armies growing tired of the league and moving on.  Despite the death of Club Penguin Armies, though, armies continue to live.
---
The Future
On February 9th, 2020, a new form of army community would arise in the form of Club Penguin Armies Media (CPAM). Ideated by RPF Third in Command Emcee and created by her alongside Help Force creator Ayan, ACP leaders Koloway & CSY, and RPF leader Ultipenguinj, CPAM is meant to emulate the army communities of the past on original Club Penguin.  In those times of armies, there was no map or league administrators; armies would determine who won a battle between themselves.  The only things the army communities of that time (Club Penguin Army Central, Small Medium Army Central, and Small Medium Army Press) were in charge of were tournaments, community news, and top tens.
CPAM is intended to be a return to form for the community, covering armies of any and every league, as well as those who are leagueless in and of themselves.  It also possesses the potential to have a territory system of itself, able to be participated in by any army with armies determining amongst themselves who owns what servers.  Disagreements would result in war, as opposed to the departure of the army from a "biased" league.
As one of the founding armies of Club Penguin Armies Media, I am happy to announce that the Rebel Penguin Federation will be taking part in their army community!  What this means for us is that we will be relying on all of you to come out to as many events as possible, so we can solidify our place as the #1 army again.  Top Tens will be released every Sunday on the CPAM server and site.  In addition, some of you may even be able to participate as CPAM staff, and all of you will be able to join the server thanks to the lack of a general chat to enable toxic behavior.  The RPF chat in the CPAM server will be slightly explicit, however, so join at your own risk.
With this new challenge and new environment, it's important you keep a few things in mind.  First, you represent the Rebel Penguin Federation.  As such, it's important you keep your head high.  We're the best army, and we know it, but don't let others get to you and bring you to their level.  Be gracious in victory and defeat.  Secondly, do not let others bring you to their chats without staff permission because they want you in their armies.  This "chat recruiting" is highly forbidden in armies.  Finally…
Never back down.
Ultipenguinj, Rebel Commander